These include games such as: AMAZING ADVENTURES Series; ESCAPE Series; VACATION QUEST Series; and AROUND THE WORLD Series.  There are others that come halfway to being 'Unlimited', but these are the ones I own and can still access, but only just.
I have recently been replaying these old games and enjoying every minute of it.  I thought perhaps it was time I brought them to the attention of other players – some who've seen and played them in the past, and others who have not experienced the high gained by completely clearing a location of unnecessary and often totally inappropriate Items.
These are games that take you on journeys to various parts of the world – your HOP sites / locations, where you play the Seek & Find – Point & Click game, solving the problems and using Puzzles to open various things – locks, containers, entrances.  When the game is completed – as part of you Standard Game (that is all there was back then) – and the Bonus is unlocked, you can then CLEAR THE DECKS!!  You go to this site via the Main Menu button 'Unlimited Seek & Find' or whatever the particular Series uses, then literally S & F – P & C each location until there are no HOs left.  There can be anything from 35 through to 80 Items to find in the one site.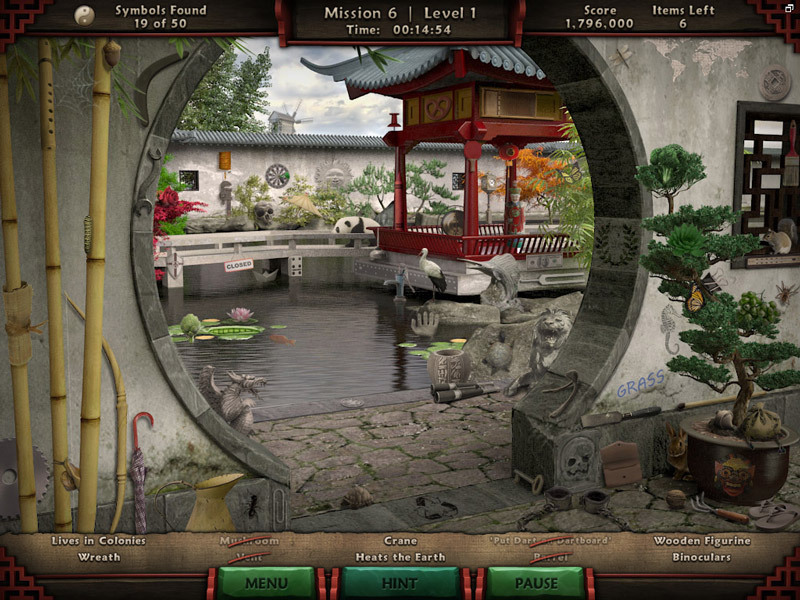 This extra fun was all included in the Standard Game, and was something to really look forward to.  There is HUGE SATISFACTION to be gained from completely clearing a site.  I still have some of these games – bought through SPINTOP GAMES, REALARCADE, BIG FISH GAMES and GAMEHOUSE (the ones I can remember without looking them up).  I'll add others later if I get a chance.
But since the advent of the Collector's Edition – where you usually get a Bonus Game/Chapter/Story of varying length, that you do want; HOP/ Mini-Games/ Puzzles/Souvenir Rooms that you do want; plus Concept Art/Wallpapers/ Screen Savers/ Music/ Developer's Diaries/ Achievements that you mostly don't want – the CLEAN SWEEP HOPs no longer are offered.
Personally, I would much rather have the return of the Standard Games with the accompanying CLEAN SWEEP HOPs than pay double the money for mostly 'junk' to gain the few little Extras.  If however, you could get the important Extras plus HOPs that stripped their locations bare, I would willingly pay the extra money.
I would like to ask the Game Developers to reinstate this CLEAN SWEEP aka CLEAR THE DECKS mode for all HOP sites/locations in their games – I've noticed the odd game that does it for 1 only site, or maybe 3 or 4.  And they need to be PC games – not Device games modified for PC – that doesn't work.  The PC needs special Graphics for it to work.
And if they could bring themselves to add it as part of the Standard Game that would be AMAZING!!!!
I highly recommend these games, and they will play on Windows 7, though I think Windows 10 would have to be reset to earlier version in Troubleshooting,  Or you could just lower the Screen Resolution prior to opening them, then returning to Recommended setting once the game is complete.
Jud House 4/01/2018
*****