by PLAYCADAMY; BIGFISH GAMES
UNDERWATER RENOVATIONS!
Story: Welcome back to the undersea world of Lagoona! Poseidon Park is in trouble. Mayor Peabody has shut it down until repairs are made, and Leona is desperate to save her grandparent's park. Join a quirky cast of characters as you set out on another Hidden Object journey in Lagoona! Take quests from the townsfolk, solve over 160 puzzles, and discover fascinating secrets of the seas, as you explore beautiful Poseidon Park.  (Big Fish sales blurb)
Options:  Quite good for its era.  Even has Performance mode to reduce the effects for an Older computer to handle it.
Main Menu:  Play; Options; Puzzles (all unlocked by the end of play); Bonus; Help; Seek & Sprint (HOPS Marathon); Credits; Exit.
Extras aka Bonus:  Wallpapers; Screensavers; Music; Stats; Bonus Goals.
Music:  Not bad but repetitive – best turned down.
Voice-Overs:  These are really fun and quite suit the characters.  You can Skip the Dialogue if you choose although you gain info you need in the occasional Quiz puzzle.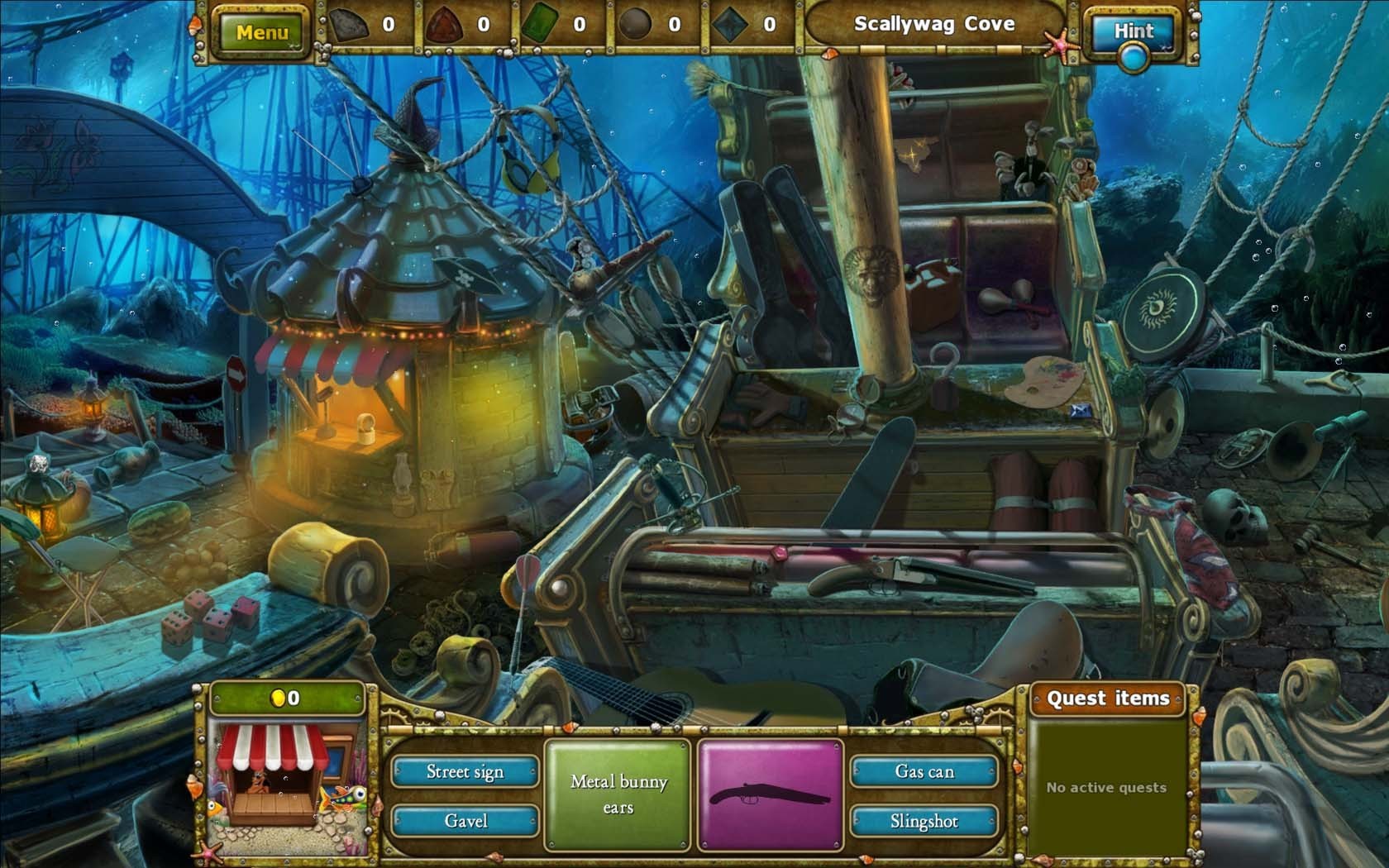 Desktop:  (Top) Menu, Gems, Location, Hint; Design (on Map Site). (Bottom) Market Stall, Inventory/HOP List/Quest Items.
Tutorial: This is quick and not too intrusive.  Worth going through initially, and also after a long break from the game.
Graphics:  Excellent, colourful, relatively clear – a little hazy with some of the HOP items merged into their backgrounds by hazy or transparency at times – and generally witty, and clever.
Play Modes:  Relaxed; Timed.
Map:  This is entered between each scene to select the next site to search.  This way you are kept aware of where each theme park attraction is located in the whole park.
HOPs:   Each HOP contains listed, silhouetted, riddled, interactive, and fragmented items to be collected, providing a fulsome search experience.  You get the lot in one go, rather than spread around in time and space within them.  You do have the services of a Blue fish that will locate one item each time you click on him – if you can beat him to his targeted item you gain extra coins.  But he's a bit sneeky and sometimes hard to catch.
Puzzles:   Most of the HOP sites contain a Red Jigsaw Puzzle piece that you heed to click to open within it to play its particular Puzzle.  Some were quite good, others irritating.  I played most of these in the first round, but later just Skipped them – for this I was nagged and admonished by some of the characters for not understanding that the Puzzles are important to the Game-play.  However I ignored all these guilt-trips as I am not a fan of many of the Puzzles, especially when they get harder and harder as you progress.  You try and decide for yourselves which ones you wish to play.
Collections:   Gems (5 per site);  Food (multiples per site); Pieces of Paper (2 per site).
Game-play:   As you can see by the HOP scenes, which are of course each theme park attraction site that needs to be explored, this is quite complex.  Not only do you have to find all the HOPs, and play the Puzzle, but you also have to collect 5 gems per site and also click on as much food as you can find to feed your Seahorses at the Seahorse Rides attraction.  You also need to trim their golden manes so that they don't become unmanageable or get snagged in the fence posts.  Besides the sale of these manes adds coins to the renovation funds. Then there are the Quest items – these are requests by customers for particular items, and these not only give you coin and gem awards, but most importantly unlock Upgrades for attractions.  These seem to take ages to gain but are worth it when they occur.  meanwhile you seem to collect heaps of money that you are unable to spend.  You can click the Design button on the map page to added individual Lamp Posts, Shrubs, Trees, Seats, Tables, Statues etc all over the Park.  this uses a Coin fee which then eats away at the stockpile.  I waited till I had finished the game to do this. That way I could continue to play each site, collect more food for the Sea Ponies and trim their manes.  The Pieces of Paper that you collect open new Attraction Sites for future HOP searches.
Player Participation:   As you can infer from the above Game-Play, this is full-on!  Not to mention exhausting after several hours of playing.  There is so much to do, and you have to make sure you don't forget to check you've completed each task before clicking Play for the next level.
Satisfaction Factor:  When you have finally renovated and saved the theme park, the game goes to Credits.  But you can then click START still as the same Player name to continue.  This way you can continue to decorate the whole of the Park surrounding the Attractions.  There is so much to do in this game and so much relaxed fun to be had.
Frustration Factors:   Mainly the fact that it took so long to unlock Upgrades for the Attractions; and the fact that the clarity of the HOP sites were an issue for item searches.  It was very tiring on the eyes, and of course on the neck as well due to leaning forward and continually peering at the screen to try to find the elusive item.  And, when you are stuck and want the darn Blue Fish helper to appear, he takes his time and keeps you waiting.  This onloy matters when you are playing in the SEEK & SPRINT mode.
Bonus:  SEEK & SPRINT – this contains all HOP sites that you play against the Clock.  That's not quite right as the clock is counting down as you visit them randomly and continually to find the required number of items in 3 hours – this is the EASY PEASY LEMON SQUEEZY mode.  There are 4 more modes – NO PROB; BOB for a 2:30 hour hunt, followed by another 3 that I have yet to unlock in order to know their names.  However, as I only just managed to complete them all in 3 hours, I don't like my chances of getting any further.  You can pause the game by clicking on MENU if you need a break from the screen and chair – I highly recommend this action!
This game has potential for decades of play.  I highly recommend this game to all players.
Jud House 21/11/2017
* * * * *